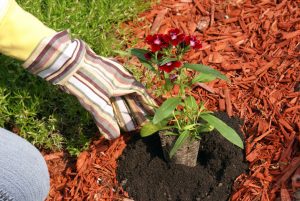 A Little Mulch Goes a Long Way!
Mulch is a useful addition to any garden or yard. Whether it's organic or inorganic, mulch helps moderate soil temperature and weather damage, prevent weed growth, and retain soil moisture. Plus, a well-incorporated batch of mulch can totally transform the aesthetic of a garden or flower bed and give it a unique flair.
Lawn Care Coppell's flowerbed and mulching service includes:
Mulch rotation or removal
Trimming flower bushes
Deadhead flowers
Weed removal in flower beds
Looking for landscape ideas to make your outdoor living area a unique and beautiful creation?
If you need help with creating flower beds or landscaping your yard, we can help you.
Use this helpful Texas landscaping.pdf to give you some ideas on what you can do to transform your yard.
Contact Lawn Care Coppell today to get a free quote for flower bed landscaping and mulching services.
Related Links: Lawn Fertilization and Weed Control