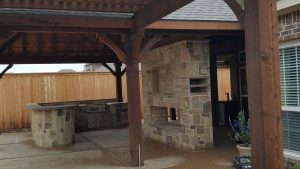 Hardscape landscaping consists of the use inanimate elements of landscaping. Utilizing materials like masonry stones, rocks, metal and wood.
Indoor Leisure Outdoors
It's that time of year to spend your leisure time relaxing in your yard. Hardscaping your yard can include:
Outdoor walkways
Dining, fireplaces, and firepits
Decorative stairs
Water elements
Adding a hardscape design to your yard while using natural, (softscaping) materials both increases property values and spaces in your home to be enjoyed during the seasons.