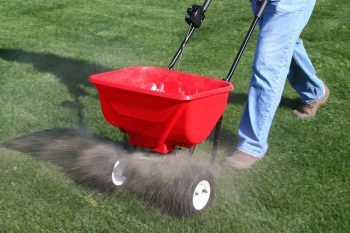 To avoid striping or burning, set your spreader settings according to the fertilizer manufacturer recommended settings.  Often fertilizer has the specific settings for different spreaders right on the bag. If it's not there, contact the manufacturer of your spreader for help on how to properly apply lawn fertilizer.
What To Avoid
No overlap. Overlap gives you strips of double fertilizer, which can cause burning. You want the set rate of spread only once. Ideally, you want the passes to touch, but not overlap.
Do not spread fertilizer by hand, Spreading by is very difficult and lead uneven spread, thus sure leave your lawn striped or burned from too much applied fertilizer.
Look at where the fertilizer drops and when you start your next pass, look back after starting the pass to make sure you're doing the next stripe in the right place and adjust if necessary. Always follow a consistent pattern when doing lawn fertilization.
Types of Spreaders
You can use two types of spreaders to apply fertilizer:
Drop Spreader – Drop spreaders do not cover as large an area, but are more precise, and do well on smaller lawns.
Broadcast Spreaders – These are used to cover much larger areas of lawns, but can be easily overlapped if you are not paying attention to the area your are spreading.
Liquid Fertilizers – Liquids Fertilizers are easier to apply, but more difficult than dry fertilizers to apply evenly.  Handheld sprayers require frequent refilling on large lawns. Usually cheaper to apply over your lawn because you do not need to rent or buy a drop or broadcast spreader.
The grass will stay greener on your side of the fence with a little TLC and following a good lawn care maintenance schedule, including fertilizing at least twice a year.