No one likes to see mushrooms growing on their well-maintained lawn. It can be very frustrating for homeowners looking to keep their yard beautiful and lush. Luckily, there are various ways to get rid of mushrooms and keep them from coming back.
Although mushrooms on the lawn are not harmful, as they can assist in the breakdown of organic matter, but unsightly mushrooms can be highly poisonous. Protecting children and pets from these poisonous mushrooms is very important.
Consider using a nitrogen fertilizer or soap and water mix to kill mushrooms on the lawn. Also, regularly monitor your lawn if there is the appearance of caps and remove them from the ground. After effectively eliminating mushrooms from the surface, the next important thing to do is to prevent them from coming back.
IMPROVE THE DRAINAGE SYSTEM
An effective way of discouraging the growth of lawn mushrooms is by improving the drainage system. Top-dress or aerate the lawn with the help of organic matter to adjust the soil drainage.
DO NOT OVERWATER
Excessive irrigation encourages the mushrooms to sprout. Limit watering with 1 inch of water weekly. Although more water is needed in the case of newly sodded lawns, monitor the appearance of mushrooms.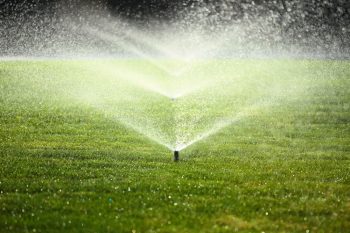 REDUCE ORGANIC WASTE
Compost piles with organic matter are perfect features for both garden and lawn. On the other hand, to prevent mushrooms from coming back, reduce the organic waste around your lawn by performing a weekly cleaning. Its also important to replace the rotting mulch and remove the decaying debris.
IMPROVE AIR AND LIGHT
A damp and shady lawn promotes mushroom growth. To allow more sunlight, increase the air circulation, and trim down the shrubs or trees to prevent shady, moist areas.
CLEAN UP PET WASTE
Pet waste can provide a food source for mushrooms. Make sure that pet waste is correctly removed from the area to discourage the mushrooms from growing.
REMOVE THATCH
Be sure to remove thick thatch. This is because excess decaying thatch can be another food source for mushrooms. Begin to remove them if they already measure more a half inch thick.
AVOID USING FUNGICIDES
Commercial fungicides do not eliminate lawn mushrooms. Mushrooms cover a large area and could hide, so these fungicides will not affect the mushrooms. Instead, pick them from the ground and dispose of properly.
With the help of the above pointers, you will not end up frustrated with mushrooms, and you will be able to see an amazing and healthy lawn.